Party Casino offers huge progressive jackpot
27-04-2011
Online punters who like to win a huge progressive jackpot should definitely visit
Party Casino
. The Big One progressive jackpot is loaded with more than $4 million in cash and features five tiers. The highest tier, Colossal Cash, offers a jackpot of nearly $4.1 million.
Slot games
Party Casino revealed that two of its slot games are networked to the huge progressive jackpot. Playing Melon Madness and Snowbusiness could be extremely rewarding. Spin the reels of these slots, regardless how much you lay down, and win the record-breaking cash prize.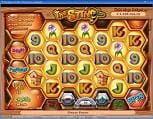 Gold Mega Jackpot
If all this wasn't enough, Party Casino offers the Gold Jackpot. This is the second highest jackpot, which features 4 tiers. The highest tier, the Gold Mega Jackpot, has grown to more than $1.8 million. Several slot machines are networked to the Gold Mega Jackpot. One of those
slots
is the Sting, which was launched recently. The Sting comes with blossoms, honey and bees. The exclusive hexagon pattern gives players extra winning chances.