Online bingo player cashes more than £90,000 at Jackpot Joy
13-12-2011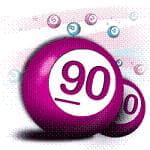 An online bingo fan has cashed more than £90,000 after taking down 90-ball bingo at Jackpot Joy. The online bingo site announced that 'Miss Jana S' is a new player at Jackpot Joy, which also offers slots and video poker. Newcomers take advantage of a 200% sign up bonus.
Fast and constant action
90-ball bingo gives players three chances to win per game and features a maximum number of 90 balls that can be called. Due to the fast and constant action, many
bingo
fans prefer 90-ball bingo above the 75-ball version. The 90-ball version is played with bingo cards that feature 9 vertical columns and 3 horizontal rows.
Progressive jackpot
"Our slots repertoire offers players staggering jackpots. Jackpot Joy welcomes players in the games lobby that displays the impressive variety of 90-ball bingo rooms. A progressive cash prize makes 90-ball bingo even more rewarding. The first full house called within a certain number of balls rewards the progressive jackpot," according to a
Jackpot Joy
spokesperson.