Old, unchecked lottery tickets reward £52,981
06-03-2012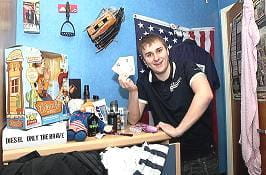 Ryan Kitching from Midlothian found 12 non-validated lottery tickets in his bedroom. One of those forgotten tickets awarded the 19-year-old a £52,981 jackpot. "My mother had been harping about cleaning up my bedroom. After a few weeks, I decided it was time to obey her orders. I discovered 12 old, non-validated
lottery
tickets," Ryan commented.
Jealous father
His dad is a devoted lottery player, but his biggest win is only £50. "My father told me to use the money for investment properties. I prefer to stay with my parents for a while as I still can't miss my mother's cooking," the teenager told Scottish media.
Charity donation
Ryan unveiled that the jackpot helps him to forget his ex-girlfriend, after they recently split up. "She will probably regrets it all. Obviously, I'm pleased to be able to buy some nice things." The supermarket employee will not give up his job. Ryan also volunteers at
First Response
, the organization that teaches first aid skills. "The charitable organization does a wonderful job and I plan to donate some money to them," Ryan added.