Minnesota couple scoops Hot Lotto jackpot
19-01-2012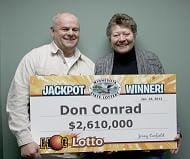 Last Saturday's Hot Lotto drawing has rewarded two Grand Rapids residents a life-changing cash prize. Don and Sandy Conrad from Grand Rapids scooped $2.6 million in cash courtesy of the Hot Lotto jackpot. The Multi-State Lottery Association (MUSL) operates both the
Powerball
game and the Hot Lotto, which can be played in 15 states.
Dealing with the life-changing jackpot
Don and Sandy Conrad claimed the jackpot on Wednesday. The couple is now facing the challenge of dealing with the impact of the staggering jackpot. Sandy Conrad works at the Grand Rapids Herald-Review newspaper and bought the lucky ticket at a local convenience store. At work she discovered that an Itasca County resident had won the jackpot. When she arrived at home, she decided to verify the lotto results.
Lump sum payment of $1.98 million
Sandy was shocked when she found out that they had won the
jackpot
. Their lucky ticket matched the winning numbers, in addition to the number for the Hot Ball. The couple selected a lump sum payment of $1.98 million before taxes. They received a huge check that represented the life-changing jackpot.