McDonald's employee claims to hold the winning ticket
05-04-2012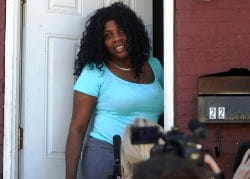 Mirlande Wilson, alleged winner of the Mega Millions jackpot, has appointed Edward Smith Jr. as her new lawyer. The 37-year-old fast-food employee had joined a lottery pool at her work. However, Wilson stated she purchased the winning ticket with her own money. The Haitian immigrant held a press conference, which failed to answer many questions. "I don't know where the ticket is and I haven't seen it," Smith Jr. said.
Raised blood pressure
Maryland Lottery officials revealed they are still waiting for the winner to claim the jackpot. Wilson didn't speak at the new conference, while her attorney requested everybody to leave the Baltimore resident alone. Smith Jr. noted that her blood pressure had gone up due to all commotion.
Lottery syndicate tumult
The manager of the fast food restaurant had given Wilson money to purchase some additional tickets before last Friday's drawing. Wilson claims she also purchased a few tickets with her own money. However, the other members of the lottery syndicate at the McDonald's outlet question that statement. "We all chipped in five Dollar. She used that money to buy the
Mega Millions
tickets, including the winning one," one of the group members stated.