Jackpot-winning asset managers donate $1 million to veterans
10-12-2011
The three jackpot-winning asset managers have decided to split $1 million among five veterans charities. The trio took home $254 million in cash after winning the Powerball jackpot. Greg Skidmore, Brandon Lacoff and Tim Davidson won the biggest jackpot in Connecticut, after which they created the Putnam Avenue Family Trust.
Example for other lottery winners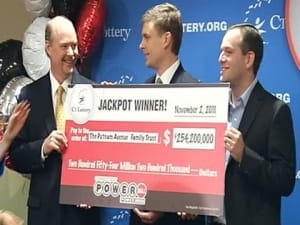 "A lot of veterans struggle with mental disorders. The jackpot cash enables us to support veterans' service organizations," the Belpointe managers said. The Putnam Avenue Family Trust is filled with $103.5 million in cash. The wealth fund managers hope that other lottery winners will follow their example and donate to charities.
Investment adviser
Thomas Gladstone, who claims to be a friend of one of the winning Belpointe managers, revealed that a client of Belpointe is entitled to the
jackpot
. "Lacoff told me that Belpointe manages the jackpot cash for the winner. He said that Belpointe Asset Management would advise the trust," Gladstone stated.
Who sold the winning ticket?
Shippan Point BP sold the winning ticket, which has given the popularity of lottery tickets at the gas station a major boost. One of the employees at Shippan Point BP, Vasil Golodinskii, revealed that they are trying to find out who sold the lucky
ticket
. Golodinskii said that the employees sell hundreds of tickets every round. "Only the owner of the winning ticket can solve the mystery," Golodinskii said.