Jackpot cash to fund operation
18-08-2011
Behar Merlaku (26) won a jackpot worth €43 million at
Casino Bregenz
. However, the Austrian casino refused to pay out the jackpot. They blamed the cash prize to a faulty computer chip in the one-armed bandit. Merlaku has sued the casino in order to claim the jackpot.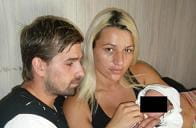 He needs the money to pay for an operation for this son Erion, who was born with a facial defect.
Jackpot to fund operation
Merlaku will do everything he can to reach a settlement from the Austrian gambling parlor. His newborn son Erion is physically disabled and needs an operation. For that reason, Merlaku had planned the jackpot money for a plastic surgery.
Plastic surgery
"My son needs an operation to give him a normal appearance. He can still have a normal life, but the plastic surgery procedure must take place while he is young. I will battle to the end to get a settlement," Merlaku commented.