Gun Lake Casino celebrates Jumbo Jackpot winner
02-03-2011
After
opening
its doors on February 10, Gun Lake Casino has paid out its first massive jackpot. The lucky player, identified only as Sylvia, scooped the Jumbo Jackpot of €29.958. Jumbo Jackpot is a progressive game that starts at €14.500. Sylvia won the jackpot at the Wayland-based casino last Saturday at 2:45 AM.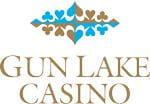 Gun Lake Casino
"We are proud that our casino has already produced numerous winners," Carter Pavey, speaking on behalf of Gun Lake Casino, commented. "Gun Lake Casino has dished out more than €1.45 million in jackpots after opening its doors on February 10. We are pleased to offer our customers the excitement of Jumbo Jackpot."
Jackpot winners
In addition, a player from Wyoming took home a €54.250 jackpot. Gun Lake Casino also paid out a jackpot for €23.870 to a customer from Plainwell. A man from
Grand
Rapids hit a jackpot of €28.933 at the new casino.