Great Blue slot spills out several staggering jackpots
14-07-2011
Online casino King Solomons has celebrated an extremely lucky slots player. The punter, who has opted to remain anonymous, cashed £52,270 thanks to the Great Blue title last weekend. During his first gaming session, he already won £51,538 in cash courtesy of the same slot game.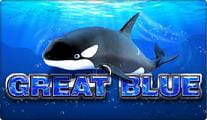 Great Blue slot
"He first cashed more than £51,000, after which he continued playing the Great Blue title. It turned out to be a rewarding decision as he took home £52,270 over the weekend. The British punter owes his latest win to the free spins bonus," according to a King Solomons spokesperson.
Winning streak
During his initial
gambling
session, five wilds enabled the Londoner to triumph on multiple lines, rewarding him £24,313. From this point, the slots player lined up three wild symbols in the grand finale of the game, which rewarded him £1,900. He then hit four scatter pearl symbols, which gave him access to the free spins feature where he cashed £25,325.