Grandfather hits €443,980 jackpot
15-06-2011
A fortunate online
slots
player has banked €443,980 at Gala Bingo. The shift worker from Weston-super-Mare wasn't able to sleep and decided to spin the reels of a slot game. He started playing the Leprechaun's Luck slot game at Gala Bingo. After a few minutes the aircraft refueller had won €443,980.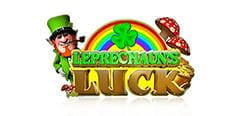 Jackpot
The 61-year old decided to check his jackpot the next morning as he couldn't believe it. He then realized that he had won the life-changing windfall. "It all seemed too good to be true. People like me don't win such jackpots. I have always dreamed about starting my own business. The jackpot money enables me to become my own boss. I will start my own gardening company after I recently resigned," the lucky winner stated.
Cash prizes
"Gala Bingo rewards cash prizes worth more than €70 million every month. It's always a pleasure to hear how our winners spend their cash prizes. We hope that this latest
winner
will be successful in his gardening company," a Gala Bingo spokesperson commented.