Gambler scoops two staggering cash prizes in one day
19-06-2013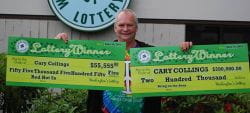 Washington's Lottery has revealed that a Puyallup resident has won two cash prizes thanks to a couple of scratch-off tickets. Cary Collings first took home $55,555 in cash courtesy of a winning
scratch-off ticket
. On his way home he decided to purchase another scratch card, resulting in a
$200,000 cash prize
.
Rewarding scratch card day
The first one was a Red Hot 5s ticket, while the second cash prize was the result of a winning Bring On The Bens ticket, a spokesperson for the Washington Lottery added. The 61-year-old gambler intends to pay off some bills with his windfall. Collings still has to determine how to spend the rest of his winnings. The lucky scratch card player added that he would continue to work.
$1,8 million in two years
Although winning two staggering cash prizes in 24 hours may seem remarkable, it shrinks into insignificance compared to
$1.8 million in cash
. Property developer George Traykov managed to win two lottery jackpots in 24 months. The 45-year-old won $1,5 million in cash back in 2011, followed by a $300,000 jackpot earlier this year.