Ex-colleagues in court over Megabucks jackpot
13-05-2011
Two Houston residents are wrangling about a $13 million jackpot. Diana Walker took a gambling trip to Las Vegas. Her co-worker Bill Perrin asked her to place a $6 wager on the Megabucks
slot machine
.
Megabucks
Perrin told his colleague exactly how to wager on the slot machine, according to FOX 26 News. They agreed that if his wager would result in a jackpot win, they would share the cash prize.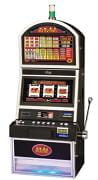 Slot machine
Mike Griffin, Perrin's lawyer, revealed that Diana Walker stated in court that the $6 wager resulted in $15 in credits on the mentioned slot game. Walker decided to continue spinning the reels instead of cashing the credits.
Ex-colleagues
Walker managed to take home a jackpot of almost $13 million. Perrin claims he should receive 50% of the jackpot, nearly $6.4 million. However, Perrin believes that his former co-worker should give him a dime.
Jackpot
"It's really frustrating that somebody tries to take away your jackpot money. She used my money to keep on playing and eventually won a $13 million
jackpot
. She doesn't has the right to claim the entire jackpot," Perrin commented.
Agreement
Diana Walker's attorney didn't confirm the agreement between the two ex-colleagues. Walker and Perrin never had a deal about the details, according to court records.