Canadian duo scoops $50 million in Lotto Max
01-03-2012
Two lotto players from Hawkesbury, Hawkesbury have scooped a $50 million jackpot. At first they thought they had won 'only' $50,000. After checking the results again, the Canadian couple realized they had won $50 million. "It felt like my heart was going crazy after checking the results for the first time. When I realized it was much more, I couldn't even stand up straight.," JoAnn Champagne commented.
New Lincoln MKZ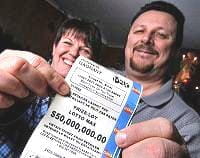 The Champagnes have bought a new house and they will give money to a Hawkesbury-based hospital and food bank. In addition, JoAnn and Gaetan have provided financial support to their son who owns a restaurant. Gaetan also treated himself to a Lincoln MKZ. They claimed their life-changing
jackpot
yesterday, eight weeks after the memorable drawing of December 30.
Christmas offers
JoAnn bought the lucky ticket at a local drugstore for the December 30 draw. She picked up the ticket when she was checking out the Christmas offers at a Pharmaprix store. Just before the holiday season started, JoAnn validated the numbers at another store.
Jackpots start at $10 million
Lottery Canada organizes the Lotto Max and Lotto 649 games.
Lotto
Max invites players to choose 7 numbers from 1 to 49 or to select Quick Pick Draws. The Lotto Max draw takes place every Friday and offers competitors jackpots of at least $10 million. Players can join the action for $5 per 3 sets of numbers.