Borgata Casino celebrates €3.620.584 jackpot winner
05-02-2011
Another gambler at Borgata Hotel Casino & Spa has scooped a jackpot. A man from Ocean County took home €3.620.584 in cash courtesy of the Wizard of Oz Ruby Slippers slot. Less than two weeks before this payout, the
Atlantic City
casino paid out two jackpots of almost €3 million.
Wizard of Oz Ruby Slippers
The lucky jackpot winner was enjoying the Wizard of Oz Ruby Slippers machine. Five progressive symbols on the payout line rewarded him a cash prize of €3.620.584.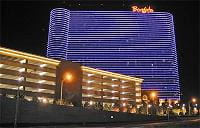 Jackpot
A Staten Island resident hit a €2.546.424 jackpot after a lucky pull at the Wheel of Fortune penny progressive slot machine. That same day, a punter from New York took home a €510.694 jackpot thanks to the Wheel of Fortune 50-cent machine.
Borgata Hotel Casino & Spa
Joe Lupo, Borgata's senior vice president of operations, commented: "Our penny slot machines have paid out three massive jackpots in only two weeks. We are excited to present another jackpot winner. Borgata has proved to be a rewarding
casino
. The latest three winners surely feel the same."