Americans spent $1.5 billion on Mega Millions tickets
02-04-2012
The Mega Millions drawing of last Friday has resulted in three winners. They share the record jackpot of $656 million, after matching all six numbers. The chances of winning the world's biggest jackpot were just 1 in 176 million. Americans had bought lottery tickets worth $1.5 billion, which corresponds to almost $5 per US citizen.
Consolation jackpots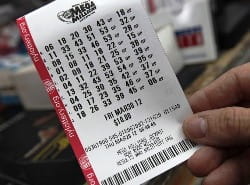 Mega Millions officials revealed that there were 161 tickets that matched five numbers, rewarding $250,000 each. There were 897 ticket holders who took home $10,000 after matching four numbers in addition to the stand-alone Mega Ball.
Modest jackpot
However, last weekend's drawing resulted in a massive disappointment for many Mega Millions players. The next drawing offers competitors the chance to win $12 million in cash, which may be considered as a 'modest' jackpot. It's interesting to see how
lottery
players react after the record jackpot of $656 million.
Identity protection
The states of Maryland and Kansas allow jackpot winners to remain anonymous. That's not the case in Illinois. Winners of big cash prizes are officially obliged to step forward during the 12 months they have to claim the jackpot. The Illinois Lottery usually doesn't protect the winner 's identity.