70-year-old lottery player cashes $1 million
18-03-2012
The Texas Lottery has produced another millionaire after Sharon L. Grounds banked $1 million. She won the jackpot thanks to the Maximum Millions scratch-off game. Grounds asked her son to buy a Maximum Millions ticket at the Super Kwik Pantry store.
First big win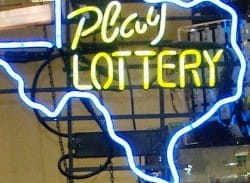 Navin Subedi, one of the employees at the Santa Fe-based grocery store, sold the fortunate ticket. "We are pleased to celebrate the first big win at our store. Everybody is pleased that a local resident has won such an amazing prize," Subedi commented. He added that lottery tickets are popular among Super Kwik Pantry customers.
Maximum Millions scratch-off ticket
Her son went to Super Kwik Pantry to purchase a few lottery tickets and cigarettes. Grounds told him to buy a Maximum Millions scratch-off ticket. That lottery game offers competitors the chance to win a
jackpot
worth $1 million. It appeared to be a lucky ticket.
$19 billion to public education
The Texas Lottery offers players a broad range of games: Powerball, Mega Millions, Lotto Texas, Texas Two Step, Pick 3, Daily 4, Cash Five and Scratch-Offs. On the Texas Lottery website you can find all winners. After selling the first ticket in 1992, the Texas Lottery has contributed more than $19 billion to public education in the state of
Texas
.