34-year-old lotto player lands $15.6 million jackpot
23-01-2013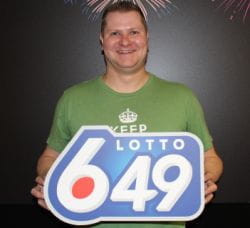 The 34-year-old James Whittaker stopped at a 7-Eleven shop to buy his favorite drink on January 16. Besides a Slurpee, he also purchased a 6/49 lotto ticket that turned out to be a lucky one. Whittaker has become an instant millionaire after the ticket rewarded him
$15,689,035.70 in cash
, which is slightly more than the
lottery jackpot won by a gambler from New Zealand
.
Good times, bad luck
"Nothing beats the thrill of winning a life-changing jackpot. The last few years have been rough and I even lost my job," the Edmonton resident stated. "Fortunately, one of my friends provided me a job as a construction worker. I must say, I'm really enjoying my new job. Winning the staggering cash prize really gives my life a massive boost," Whittaker added.
Travelling and football coaching
However, the new millionaire has decided to quit his job. Whittaker plans to share his winnings with his relatives. "The money enables me to finance my nephew's autism therapy. We also plan to enjoy a nice trip to Australia," the jackpot winner revealed. Additionally, Whittaker will now be able to dedicate more time to his passion for football coaching.