3 amigos claim their share of the Mega Millions jackpot
14-04-2012
A Maryland school administrator and two teachers have scooped a share of the staggering Mega Millions jackpot. The trio will split the lottery prize worth $105 million, read a statement from Mega Millions. They each chipped in $20 to purchase 60 tickets at three selling points.
$35 million each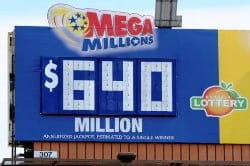 A
Mega Millions
spokesperson revealed that the three Maryland school employees are entitled to almost $35 million each. The trio consists of a special-education teacher, an elementary-school educator and a school office clerk. The other winning tickets were sold in Kansas and Illinois.
One big fat liar
In the meantime, Haitian immigrant Mirlande Wilson appears to be one big fat liar. The
McDonald's employee
claimed to hold one of the winning tickets. Later she revealed that she had lost the ticket. The Maryland school employees were amused by the whole story. "Frankly, I don't understand why I made up everything," Wilson stated.