$1 million jackpot winner still uses food stamps
09-03-2012
A local TV station found out that a jackpot winner was still using food assistance. Lincoln Park resident Amanda Clayton scooped $1 million in the lottery last fall. In the meantime, the Michigan Department of Human Services has removed Clayton from the food assistance program.
Tough life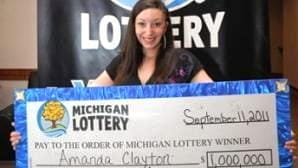 The 24-year-old recently treated herself to a new home, in addition to a new car. "Despite the jackpot, I'm unemployed and the bills keep coming in. Then there are my two houses. My life is still difficult," Clayton told local media.
No ethical objections
"I assumed that they would remove me from the food assistance program, after I won the jackpot. Surprisingly enough, I was still able to use the food stamps. I thought I was entitled to use them, since I'm unemployed," Clayton commented.
Exploiting weaknesses in state laws
However, Clayton isn't an exception. Another Michigan resident, Leroy Fick, continued to use food stamps after cashing $2 million in the
lottery
. Fick stated that he's not to blame for the weaknesses in state laws. "The state is responsible for its laws," Fick added.