Worrying gambling trend among British students
04-05-2012
Rising college fees entice more British students to gamble, according to the Young Academic website. There are many betting shops in the UK, while online casinos and mobile betting are close to hand. But there are more reasons why youngsters and students turn to gamble. They could feel depressed or bored after leaving their parents and friends behind.
Online gambling not a specific threat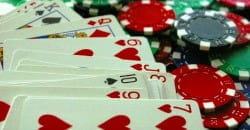 Recent figures show that 0.9% of youngsters (in the 16 – 24 age group) have symptoms of pathological gambling. That is equal to 67,500 youngsters with a gambling problem. "Compulsive gamblers tend to increase their gambling budget in the course of time. Especially
poker
is extremely popular among students. Online casinos are not a specific threat as students use various forms of gambling," according to a Gamcare spokesperson.
Pathological gambling among youngsters
Other estimations shows that approximately 127,500 Britons younger than 24 have symptoms of pathological gambling. There are three times more problem
gamblers
among young people than among adolescents. Additionally, adults with a gambling problem are more likely to seek help than young compulsive gamblers.
TV and online casinos
The harsh economic times urge Britons to spend more time at home, gambling at online casinos and watching television. The UK economy has fallen back into recession and British consumer spending power continues to slow. However, TV and high speed internet are the last things Britons want to give up.