Under-aged Bobbi Kristina Brown avoids gambling conviction
07-06-2012
The Nevada Gaming Control Board has announced that Bobbi Kristina Brown avoids gambling charges. Whitney Houston's daughter allegedly gambled at the MGM Grand Las Vegas on May 19. The 19-year-old Brown and her boyfriend, Nick Gordon (22), were spotted playing the one-armed bandits at the Las Vegas-based
gambling resort
.
Not enough evidence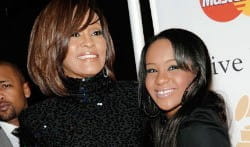 "Our investigators have concluded that the evidence fails to support a conviction. For that reason, we have ended the investigation," read a statement from the Nevada Gaming Control Board. A gambler in Las Vegas must be 21.
Six months in prison
The teenager, daughter of Houston, attended the Billboard Music Awards to receive the Millennium Award on behalf of her late mother. If she had faced charges, she could have been convicted to six months in prison or a fine up to $1,000.
Criminal offense
The brief video, released by the celebrity gossip website TMZ, doesn't show any casino employees. Underage gambling is a criminal offense in the state of Nevada. The MGM Grand
Las Vegas
has cooperated fully with all investigations conducted by the Nevada Gaming Control Board in connection with the incident.