Rebel Bingo takes off in LA
17-02-2012
Underground Rebel Bingo Club is now happening in Los Angeles. The alternative rules en prizes result in an extraordinary bingo night. Two ex-reality show producers invented the bingo concept by coincidence. "Accidently we found a bingo set in the cellar and we started to play without obeying the rules. In fact, we didn't knew the bingo rules. For that reason, we invented our own rules and made up ridiculous prizes. It became popular before we knew," they said.
Immersive theater events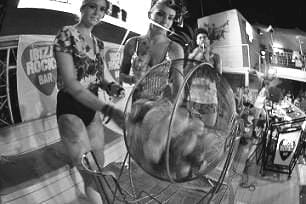 The extraordinary bingo events are now due to happen in Los Angeles. One of the organizers of the Rebel Bingo nights describes them as 'immersive theater events'. "The excitement takes off after buying a ticket. We unveil the location shortly before the bingo evening, but without announcing the bingo element."
It's all about enthusiasm
Rebel Bingo is based on the original game, but with a lot of silly moderations. There is the
bingo
cage and players receive the well-known bingo cards. However, the flashy bingo girls call the letters and numbers in a rather different way. "We completely ignore the rules of the original game. Competitors can win prizes, but at random. The numbers don't determine the winners, it's all about enthusiasm," one of the organizers noted.
No boring people
After cities like New York, Madrid and Ibiza, Rebel Bingo is coming to LA. Enjoy the DJ's, the flamboyant bingo girls, but most of all: go crazy! The first Rebel Bingo evening takes place today, while the next one is scheduled for March 3. There are 8 rules to keep in mind, and boring people should definitely choose another
club
.