Professional criminals empty gambling machines
22-03-2013
A set of gambling machines based inside the Lake Westside Tavern in Jerseyville, Illinois have been emptied by a group of robbers. They managed to steal approximately $5,000 in cash after they gained access to the pokies, according to a Jerseyville Police spokesperson.
Professional criminals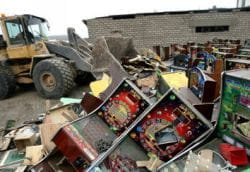 It seems that the thieves knew very well how to open the slot machines. For that reason, Jerseyville Police assume that they were professionals. The incident took place around 12 pm, and they needed only a few minutes to steal the cash. Jerseyville Police have not made any arrests in the case so far. They will join forces with other departments and agencies in order to determine if similar thefts have occurred in the past.
Fighting a losing battle
Besides gamblers, criminals are also interested in slot machines. There are many reports about thieves who stole money out of gambling machines. There are also many venues that offer illegal slot machines, as was the case with
four internet cafes based in Hesperia
, California. Normally, gambling machines seized are destroyed, which seems like fighting a losing battle.