Problem gambler deceives relatives and friends
05-02-2011
Tina Michele Sammons deceived her family and friends by asking them money to fund her cancer treatments. The mother of a five-year old daughter was detained on four charges of
fraud
over €3.600. A Victoria court found the Langford resident guilty and condemned her to three years in prison.
Problem gambler
Her family and friends donated approximately €255.300 after she told them in 2009 about her deadly disease. Sammons told her relatives and friends that she needed the money to finance the required cancer treatments. She even shaved her head to demonstrate the results of the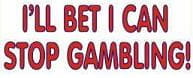 chemotherapy. Sammons needed the money for her gambling addiction. Her brother-in-law sensed that there was something wrong and ordered a private eye to verify her claims.
Cancer treatments
When she was detained, Sammons' parents-in-law had already donated approximately €204.200. Their goodness put them €73.000 in debt. Obviously, she never needed the cancer treatments. The court also sentenced her to repay all donations to her relatives and friends.