Limbayat Police arrest illegal gamblers
03-08-2012
Sixty-six people have been arrested for gambling at a gambling den in Limbayat, South Gujarat. Police officers arrested the suspects at a wide open ground close to the Sai Baba temple. Local crime branch (LCB) officials seized $3,223 in cash, in addition to valuable goods worth $358.
Strange gambling ritual
South Gujarat is famous for its unusual gambling ritual (Shravaniyo jugar) during the religious Shravan month. Actually, many pious residents don't drink alcohol and only eat vegetarian food. There are also worshipers who abstain from shaving and don't cut their hair. A large number of people fast during the Shravan period and gamble in groups.
Gambling during Shravan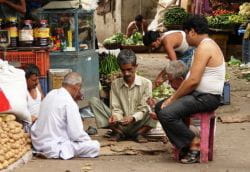 "The open-air location was deliberately chosen in order to observe the area. The remote open ground was also selected to prevent nuisance. We always see a considerable increase in gambling during the religious Shravan month," a police officer commented.
Mattresses and loans
The gambling operators offered players mattresses and card games. Gamblers could also borrow money, while the den operators altered the locations on a regular basis. Players would receive text messages about the new location. In the last few years, there were reports of illegal gambling operations at a hut near the Tapi river.
Flourishing underground gambling scene
Indians have an inborn fascination with gambling, despite severe restrictions. A flourishing underground gambling scene is the result. Indians love sports wagering, which has resulted in a large number of illegal bookmakers. Gambling is only allowed in the states of Goa and Sikkim. Indian gamblers who are caught can receive jail sentences. Recently we reported about
seven other Indians who were arrested for playing Teenpatti
.