Illegal gambling machines at Little Rock convenient store
05-09-2011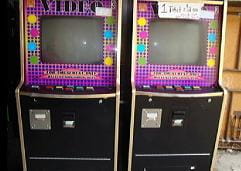 Police officials have arrested four suspects at a gas station with convenient store. They found four illegal one-armed bandits at the Little Rock-based gas station. Kimberly Lawhon, manager of the gas station, wasn't aware of the fact that the gambling machines were prohibited.
Illegal gambling machines
Authorities
confiscated
four slot machines and cash from the gas station. Lawhon declared that the one-armed bandits were delivered with Arkansas Amusement labels. For that reason, she assumed that they were officially permitted.
Cash prizes are illegal
Lawhon revealed that the gambling machines paid out cash prizes. Pulaski County Sheriff's spokesman, Lt. Carl Minden, stated that gambling machines are not allowed to offer cash prizes. "According to the law, non-monetary prizes are legal, while cash prizes are prohibited," Minden noted.
Accused of illegal gambling operations
The manager declared that she would have removed the
slot machines
if she would have been aware of the illegality. Police officials detained Lawhon, Mohammad Tariq and Zafar Hussian. They are accused of illegal gambling operations. Investigators are still examining the case, and more people may be arrested.