Huge online gambling potential Central and South America
10-09-2010
Research and Marketing (R&M) has published its report on the potential for online gambling in Latin America. The report by the research group unveils the enormous potential for online gambling in the region. Online gambling operators could generate billions per annum in Latin America. The results demonstrate that Latin Americans spend around €7 billion per year on online gambling. An average punter in Latin America wagers around €197 a year.
Lottery gambling
Many online gambling operators are based in Costa Rica. The militarily neutral country has the largest gambling market with annual revenues of €11.40 billion. Brazil generates €5.51 billion on online gambling with €3.22 billion on lottery gambling. It has the largest lottery market in the region.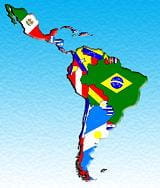 Gambling revenues
Argentina's gambling industry generates revenues of €3.54 billion per annum. The Colombian gaming industry delivers annual revenues of €1.57 billion. Panama generates €920.173.410, Venezuela €786.473.000 and Chile €472 million.
Economic recovery
R&M's statistics show that travel and tourism in Latin America will grow by 5% a year. The marked gaming culture in Central and South America provides a massive gambling potential. The economy of Central and South American nations are performing well. Latin America is expected to post a 4% growth rate this year, according to the study. The World Bank reports that the economic recovery in Central and South America is the second strongest worldwide.
Investments
The region in general stimulates foreign investments. Many Latin American nations offer incentive advantages. Investors are treated respectfully and they are not frustrated by discriminatory regulation.