Grill restaurant challenges risk seekers
28-04-2012
The Heart Attack Grill has reported a second collapsing customer in three months. Jon Basso, owner of the controversial grill restaurant, stated that the woman had been flirting with death. Most clients are risk seekers who live an unhealthy lifestyle. You could say that dining at the Heart Attack Grill is almost like gambling.
Triple bypass burger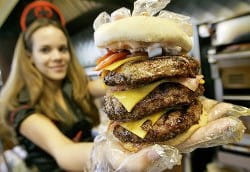 In February, another guest fainted at the
Heart Attack Grill
, while enjoying a 'triple bypass' burger. "Tourists thought it was some kind of promotion, which made the collapse even more painful. Despite the controversial theme of our restaurant, we would never do something like that," Basso commented. Fortunately, the man recovered well after his collapse.
Unhealthy lifestyle
Media report that the woman was taken to a nearby hospital. In a manner of speaking, she was flirting with death as she had been drinking margaritas, eating fast food and smoking cigarettes. However, Basso revealed that she was having a blast. "At a certain moment, your body capitulates due to such an unhealthy lifestyle," Basso commented.
Most caloric sandwich
Employees at the grill restaurant wear hospital-themed uniforms, while customers are named 'patients'. You can choose from risky meals like 'flatliner fries' and 'bypass burgers'. Then there is the 'quadruple bypass burger', which features more than 10,000 calories. Actually, that burger has been named as the world's most caloric sandwich. Additionally, patients weighing over 350 pounds take advantage of free meals. Are you willing to gamble with your life?