Gambling tattoos: Badass robot slot raises questions
09-01-2016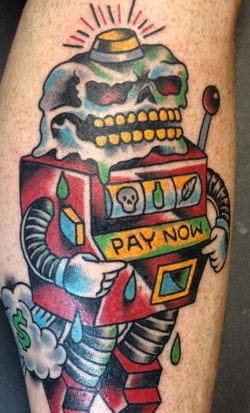 How would a Mexican robot look like? It appears to be a real badass slot machine packed with an angry skull. The gambling enthusiast in question visited a San Diego-based tattoo parlor where a Mexican artist came up with a
mystery creation
. We must say that the tattoo artist did an excellent job.
Ready for takeoff
The one-armed bandit features two arms that seem to invite players to start spinning the reels. At the same time, the evil skull appears to scare gamblers who want to give the slot machine a try. The reels of the badass slot feature 'scary' symbols, like skulls, beer bottles, and some kind of leaf. Another funny detail is the Dollar-themed smoke cloud, which makes you wonder if the
one-armed bandit
is about to fly off.
Mexican mystery
There's also an intriguing button on top of the
slot machine
. Why is it blinking, and what will happen if someone hits it? Additionally, the one-armed bandit seems to be sweating. That makes you think: are we still talking about a machine or a human robot? Lots of questions, very few answers, which makes this gambling tattoo a real mystery.