Corporal punishment for gambling Indonesians
15-03-2012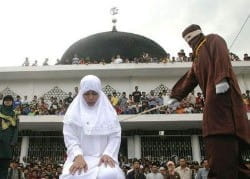 A group of five Langsa residents have been publicly caned for gambling. All convicted men were flogged six times. The five Indonesians had participated in an illegal lottery game. Langsa is located in the province of Aceh, which is the only Indonesian province where the sharia law is in effect.
Violation of sharia law
Putra Masduri, speaking on behalf of the public prosecution department, noted that 20 citizens had infringed provincial legislation. Masduri refused to reveal the offenses of the 15 other convicted Indonesians.
Sense of shame
Supporters of corporal punishment claim that it provokes a sense of shame rather than causing physical
injury
. Spectators shouted that the convicted men should be punished harder. Nevertheless, human rights organizations condemn all forms of corporal punishment.