British marine killed in Afghanistan leaves buddies gambling holiday
04-09-2011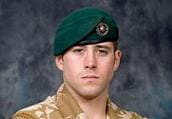 A group of friends have honored their friend who was killed by an improvised explosive device in Afghanistan. Marine David Hart left his buddies $163,000 to go on a gambling spree in Sin City. Hart (23) had closed out a life insurance policy.
Party in Vegas
His relatives found Hart had donated about $81.500 to charities. Additionally, he had left $163,000 for his friends to party in the American gambling capital. In July, they decided it was time to fulfill his last wish. They visited
Las Vegas
and partied like rock stars.
Unforgettable holiday
Andy Hare, one of Hart's friends, said: "It was absolutely an unforgettable holiday. We enjoyed every minute of our stay in Vegas. Several friends visited the gambling city for the first time and they were astonished."