Asian gamblers arrested in Abu Dhabi
12-07-2012
Abu Dhabi Police have taken 23 Asian immigrants in custody after organizing public betting. They played a game called 'Belt Rotation' whereby they used a folded belt, a screw driver and an ironing board.
Belt Rotation
The
Asian
suspects invited people to strike the screw driver in the middle of the belt. Competitors would receive $27 for hitting the centre of the belt. Players would lose the same amount if they failed to hit the target. There were also reports of $136 bets.
Arrested suspects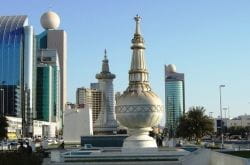 The gambling operations took place in Abu Dhabi and in Mussafah-based workplaces. They were arrested for operating gambling games or participating in the betting activities. The suspects gathered in parking lots or intersections. Police also seized fake money.
Fight against gambling
Omeir Al Muhairi, Deputy Director of Police Operations at Abu Dhabi Police, emphasized the continuing fight against gambling across the country. "The operations focused on the district of Abu Dhabi after we received tips about public betting activities," Al Muhairi stated. They examined the areas and detained the suspects.
Horse racing popular
Gambling is prohibited in Islam, which makes it illegal in the United Arab Emirates. Emiratees have an inborn fascination with horse racing. The Abu Dhabi Equestrian Club is the main horse racetrack in the United Arab Emirates. This facility comprises of two tracks. There are seven emirates, including Ajman, Abu Dhabi, Dubai, Fujairah, Ras al-Khaimah, Sharjah and Umm al-Quwain.