Armed robber arrested for stealing lottery tickets
19-08-2011
A duo from Windsor has been arrested after they stole money, cigarettes and lottery tickets from two grocery stores. Darien Pittman (24) first targeted a J.B. Foodmart, followed by a 7-Eleven. The armed robber left both stores with cash, cigarettes and lottery tickets.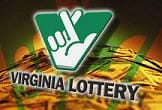 Masked, armed robber
Diamond Tynes, a 19-year-old Smithfield resident, was arrested for helping Pittman escape. "Tynes said that she didn't know what Pittman was doing in the stores, despite the fact that he was wearing a mask and carried a gun and lottery tickets," a police spokesman commented.
Stolen lottery tickets
After robbing both stores, Pittman wanted to cash the lottery tickets at another shop, according to the police. They didn't reveal the value of the
lottery
prizes. The Virginia Lottery informed the Windsor-based store about the stolen tickets. They immediately notified the police.