Armed man robs Barrys Bingo
16-01-2012
Barrys Bingo kicked off the weekend with a robbery Friday night. A
gunman
robbed the Denver-based bingo hall and fired a shot at one of the security officers. He threatened the bank clerk and fled in a red SUV.
Armed robbery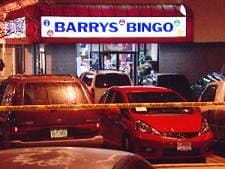 The security official was not injured as the bullet ended up in the ceiling. "The bank clerk screamed as the robber pointed a firearm at her. Subsequently, a police officer told everybody to take cover. The suspect wore a black hat, something like a dark colored scarf and a black mask," one of the bingo players stated.
Masked robber
A police report shows that the robber was a Latino of about 20 to 25 years old. The masked man weighs approximately 135 pounds, stands about 5 ft 9 – 5 ft 10 and was dressed in all black. It appears that a second man assisted the robber.
Electronic bingo and old style bingo
Barrys Bingo was established in 1993 and is renowned for its friendly staff. The family-owned bingo hall offers an impressive variety of bingo games. Visitors can enjoy bingo with paper and daubers, while they can also choose for high-tech bingo games. The
bingo
parlor also features a food court and a cash point.