Arcades new hangout spot for Japanese elderly
18-01-2012
Japanese elderly have found a new hangout spot: arcades. But seniors tend to play other games than teenagers. Japanese elderly prefer to spin the reels of fruit machines instead of fast-paced action
games
. Seniors also consider gaming as brain exercise and a way to spend their time.
Adapted to elderly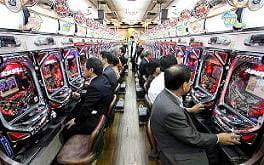 The gaming industry has detected the growing trend among Japanese elderly. Game arcades are adapted to these social and demographic developments. New arcades are more spacious, light-colored and located in areas that attract a wide range of visitors, like shopping malls. There are also arcades that have added cozy seats for seniors that prefer some comfort.
Demographic trend
Market followers believe that the number of seniors that visit arcades has increasingly grown during the last five years. Figures show that approximately 25% of the Japanese population consists of seniors. It is expected that this figure will climb to 40% by 2050.
Hypocritical
"The arcades enable me to meet new people and discuss common problems. I can leave all my troubles and worries behind for a moment when I'm playing. It isn't necessary to make plans when I want to visit the arcade, which gives me a lot of freedom. However, it's also a bit hypocritical as I used to forbid my
children
to visit arcades. Now I'm playing several times a week," a Japanese senior commented.