After-party bus cures gamblers' hangover
12-04-2012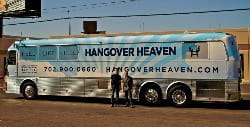 Hangover Heaven promises to heal gamblers' hangover in 45 minutes. This after-party bus picks up guests with a hangover at Las Vegas-based hotels. Dr. Jason Burke is the brains behind Hangover Heaven and he claims to heal 95% of hangovers in 45 minutes.
After-party treatments
Burke revealed that Hangover Heaven offers three services: salvation, redemption and in-room treatment. Redemption could be an option for gamblers who didn't have any luck at the
blackjack
table. This treatment will cost $130, according to the 'hangover specialist'. You can also opt for a $500 visit of the doctor at your hotel, which includes the whole package of treatments.
Hangover tips
However, there are less expensive options to cure your hangover. Burke stated that drinks with whiskey and bourbon seem to cause more severe hangovers. On the other hand, clear gin and vodka result in less painful hangovers. In addition, alternating alcoholic drinks with water or other non-alcoholic drinks reduces the amount of alcohol you consume. Taking a multivitamin before getting some shut eye is another option. It's also recommendable to sober up before you lay down.