4-month jail term for stealing cash from bingo hall
18-04-2013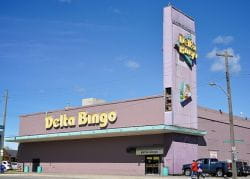 A St. Catharines resident has been sentenced to a 4-month prison term after he was found guilty of
stealing $5,000 from a local bingo parlor
. John Honsberger wasn't eligible for probation and the 4-month jail term comprises 2 months of pre-trial custody.
Theft at bingo hall
Incredibly, John Honsberger was booked after police tracked his footprints left in the snow. The 26-year-old man stole the money from a Delta Bingo hall based in St. Catharines. Honsberger snatched twenty-five bills worth $20 from the cash register at the St. Catharines-based
bingo
parlor.
OxyContin tablets
Police were able to track Honsberger's footprints in the snow to a home where he was hiding. The owner of the house allowed the police to come inside, after which he was arrested. Honsberger had taken OxyContin tablets and he has an impressive criminal history, according to a police spokesperson.