Woman sets husband on fire after quarrel over gambling debt
24-02-2011
A Vietnamese journalist has been murdered by his wife. She decided to douse her sleeping husband in gasoline and set him on fire. Earlier that day, the couple had a dispute over a gambling debt. His coworkers feared that the murder was the result of a reprisal for his reporting on corruption and smuggling.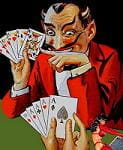 On fire
Tran Thi Thuy Lieu (40) was arrested and she admitted murdering Le Hoang Hung (50). She told the police that she had sprayed the gasoline on her husband after which she set him on fire. Ten days later, Hung died in a hospital.
Journalist
Lieu tried to cover up the murder by hanging a cable from the balcony of Hung's bedroom. In this way it should have appeared as an outside attack. Hung's coworkers feared that he had been the victim of reprisals for his investigative reporting. Hung had been reporting on corruption and smuggling in the Mekong Delta region.
Gambling debt
The gambling debt was the result of Lieu's trips to
casinos
in Cambodia. Lieu visited the casinos 22 times at the end of last year and lost more than €34.000. She wanted to sell the house but her husband disagreed, which resulted in a quarrel.