Woman assaults and robs man at Mystic Lake Casino
01-07-2011
A man has been attacked by a woman at the Mystic Lake Casino in Prior Lake. Ebony Dominique Douglas was acquainted with the man at the gambling parlor. In a car with the male victim, she sprayed him with pepper spray, punched him in the face and scratched him,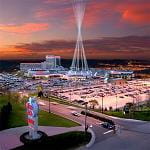 after which she stole his wallet. The contents of the stolen wallet are valued at $480, which also featured credit cards and an ID-card.
Scratch wounds and bites
His body revealed several scratch wounds and bites, alongside pepper spray effects. Douglas stated that she received money from the man for gambling. She declared to be sexual assaulted, which forced her to use mace. Douglas also confessed that she bit the man and fled. She threw the wallet away after she hid the stolen money in her bra.
Criminal record
Furthermore, Douglas confessed that she changed her shirt after she fled. A female witness confirmed that Douglas was the attacker. Her criminal record includes counterfeiting and
fraud
convictions.