Wigged man robs Dostal Alley Casino
24-06-2011
A Central City-based casino has been robbed by an armed suspect. He walked into the Dostal Alley Casino and started playing an one-armed bandit, according to authorities. Police are searching the casino robber. Nobody was injured during the incident.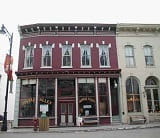 Casino robber
After spinning the reels of the slot machine for a couple of minutes, he went to the cash counter and threatened the cashier. The robber brandished a gun and demanded cash. "The man left the building after the cashier gave him an unknown amount of cash. It remains unclear if the robber had a car waiting," a police spokesperson said.
Wigged man
The
robber
seemed to be wearing an obscure toupee and phony beard. In addition, the suspect appears to be a white man, approximately 5'7" and weighs around 300 lbs. He was wearing a green t-shirt, blue pants and a light-colored sports cap.