Viejas Casino benefits from power outage
13-09-2011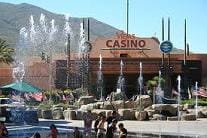 Alpine residents used last week's power outage to gamble at the local casino. It seemed business as usual at the Viejas Casino thanks to its backup generators. The huge power outage affected many people in San Diego County (California) and parts of Arizona and northern Mexico.
Massive power outage
Rowina Johnson (53), who works at the Viejas Casino, decided to go to work early after a restless night. She contacted her son in Mission Valley, where people were also left in the dark. "It was a massive blackout," Johnson commented.
Peak hour at the casino
She noticed that it was pitch-dark when she drove to
work
. However, the Viejas Casino wasn't affected by the blackout as backup generators enabled them to remain open. "It seemed peak hour at the casino, despite the power outage in the region," Johnson noted. But when the power problems were solved, it seemed rather quiet at the gambling parlor.