Singapore Police raids underground casino
04-04-2012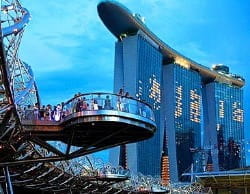 Thirteen men have been arrested for their involvement with an illegal gambling den. Singapore Police reported that the arrested men are in the age group of 18 to 35. Additionally, they confiscated casino tokes, card stocks, and approximately $1,600 in cash.
Texas hold 'em
was one of the card games played at the illegal gambling den.
Prison sentences and fines
One of the suspects had rented the apartment and turned it into an underground casino, according to police reports. All arrested men face prison sentences up to six months, in addition to fines up to $4,000. The Singapore Police emphasizes that it's strictly prohibited to use premises for illegal betting operations. It proves that the police seeks to ban illegal gambling and will intensify its efforts.
Second largest casino spot
Singapore will become the world's second largest casino spot. Market watchers estimate that casinos in the Southeast
Asian
city-state will generate revenues worth $6.4 billion. With this forecasted gambling revenue, Singapore will overtake Las Vegas as second largest gambling hub. In 2010, Singapore welcomes its initial two gambling parlors that generated $5.1 billion in gaming revenues.