Singapore police raid illegal casino
08-03-2012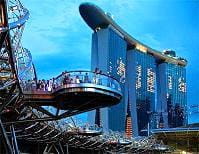 Police officials have raided a commercial unit, which was used to cover up illegal gambling activities. Six male suspects were detained for violation of the Common Gaming House Act. They determined the illegal casino after observing closely the commercial unit. The raid took four hours and was executed on February 20.
Prison sentences and fines
A 48-year-old man allegedly ran the illegal casino, according to police reports. The other arrested men were allegedly caught gambling during the
raid
. Police officers confiscated 10 computers, in addition to S$$5,054 in cash. The suspects face possible prison sentences up to six months or fines amounting to S$5,000.
Casino resorts
The Singapore government decided to prohibit gambling in 1826 after legal gambling resulted in gambling problems and crime. In 2005, the Prime Minister of Singapore revealed the development of two gambling projects. Lee Hsien Loong stated that the integrated casino resorts should enhance Singapore's tourism industry.