Scheming gambler escaped to China
03-04-2012
The main suspect in a casino scheming case has escaped to Shanghai, according to Jeongseon Police. He defrauded the Kangwon Land Resort & Casino by using a camera hidden at the gambling parlor. Jeongseon Police had detained the suspect thanks to CCTV footage, but he has managed to escape.
10% of profits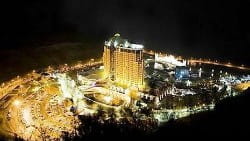 The suspect allegedly organized the cheating activities at the Jeongseon-based gambling resort. Two
casino
workers would receive 10% of profits for placing a card box, packed with minuscule cameras, at one of the gambling tables.
Red light
Investigators are also interrogating 21 gamblers who were playing at the baccarat table. One of those gamblers cashed $1,421 while playing blackjack. Two players revealed that the card box featured a red light. They promised to cooperate with the investigation, but failed to appear for interrogation. Investigators want to know how they detected the card box.
960 slot machines
The Kangwon Land Resort & Casino features 199 hotel rooms. The gambling area offers players 960 slot machines and 100 tables with skilled croupiers. Gamblers can choose from blackjack, baccarat, roulette,
craps
and thirty big wheels. Casino employees treat players to free drinks.