Russian police raids illegal gambling parlors in Moscow
31-10-2010
The Russian police has shut down four illegal gambling venues in Moscow. Spokesman Filip Zolotnitsky revealed that 200 police officials participated in the
raids
. "The illegal gambling parlors consisted of bars that offered shows and luxurious liquors. We confiscated roulette and poker tables, slot games and many documents that demonstrate the illegal activities," Zolotnitsky stated.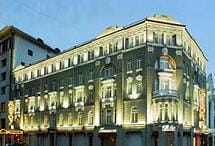 Gambling parlor
The Moscow Savoy Hotel launched the first legal casino in 1989. The second casino opened its doors in 1990 and entered the Guinness Book of Records. In 1991, Russia welcomed its first casino dealing in Rubles. Russia's capital had approximately 200 gambling venues in the end of the nineties. The initial slot casino started its operations in 1993. In 1998, Russia had 800 casinos that offered 12.000 slots. There were 2.100 gambling venues with 35.000 slots in the end of 2000. Casinos in Moscow and St. Petersburg offered the majority of those slot machines.
Slot casinos
At the start of the twenty-first century, the majority of the
casinos
, particularly slot casinos, became semi-legal. Russians could even gamble on fruit machines at bus stops. The Russian government enacted the first law that limited gambling in 2006. Gambling parlors that didn't comply with the law had to end their operations by mid 2007. The Interior Ministry checked the fiscal, taxation and hygienic conditions of casinos in the capital. In those days, gambling parlors in Moscow were associated with the Georgian mafia. After these checks, president Putin enacted the gaming industry legislation.
Gambling centers
The prime minister expressed his concerns over the popularity of gambling in Russia. "It's a shame that so many Russians are addicted to gambling and alcohol," Putin stated. He supported the plan of creating four gaming centers. All gambling parlors that were situated outside the four gambling areas ended their operations mid 2009. The four gambling centers are situated in the regions of Krasnodar, Primorye, Altai and Kaliningrad.