Resorts Casino Hotel opens gay nightclub
28-06-2011
The gay community in Atlantic City has an exclusive nightclub to choose from.
Resorts Casino Hotel
has opened Prohibition, which is the first gay nightclub in the gambling city. With this new club, the casino resort capitalizes on the flourishing Lesbian Gay Bisexual & Transgender (LGBT) community in Atlantic City.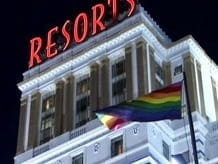 First gay nightclub
"I believe it will become a popular nightclub. Many casinos have targeted the gay and lesbian community, but nothing compared to this exclusive gay nightclub. Some casinos organized gay-inspired events and parties. However, the LGBT community needed an exclusive nightclub," according to Gary Hill, executive director of the Metropolitan Business & Citizens Association and a renowned member of Atlantic City's gay community.
Casinos instead of gay bars
Resorts in Atlantic City used to receive approximately 250,000 members of the LGBT community on holiday weekends. There were many gay establishments in the New Jersey-based city. After legalizing gambling in 1976, the number of gay clubs and bars decreased rapidly. Developers bought up numerous gay establishments and converted them into casino resorts.