Police detains man for smoking marijuana inside casino
09-09-2011
A man who allegedly smoked marijuana inside the Argosy Casino tried to avoid arrest by swimming away. The police managed to arrest the man at the General Motors Fairfax factory across the Missouri River.
Smoking marijuana inside casino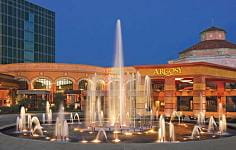 The suspect attempted to flee on foot, forcing the Missouri Highway Patrol's Gaming Division to ask police backup. Officials were chasing the man who had been smoking marijuana inside the gambling parlor, according to a police spokesperson.
Rescue operation
The man fled by jumping into a nearby creek and began swimming in the direction of the Missouri River. "The situation became a rescue operation due to the strong river flow. Rescue workers and firefighters arrived at the scene, alongside Riverside police officers," according to authorities.
Sandbar
One of the witnesses saw how the suspect swam to a sandbar. At first, rescue workers weren't able to reach him. He was gone when they got to the sandbar. The man probably swam away in order to avoid arrest. However, police officers detained the man at a plant across the
river
.