Palazzo Las Vegas revamped
24-04-2011
Casino fans have a 'new'
gambling
parlor to visit in Las Vegas as the Palazzo has been revamped. The management chose to give the casino a new, lively atmosphere. Palazzo Las Vegas now features a colorful design that will surprise many regular visitors.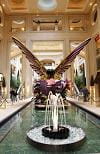 Flowers
A signature butterfly is the main attraction of the hotel and casino resort. This centerpiece has a huge wingspan and serves as concluding piece of the renovation. Another area features a flowery theme with various species of flowers decorating the casino.
The Palazzo
Nevertheless, the Palazzo announced that the spring decoration will be replaced for a new theme in June. So those who love flowers have to visit the casino before the flower-theme is replaced.
Las Vegas
Newsmax Magazine reported that Las Vegas visitors can enjoy the gambling capital without spending big time. The magazine claims that there are many reasonably priced hotels in
Las Vegas
.