No barely dressed girls found at illegal casino
01-02-2012
Bangkok police have raided a building that allegedly housed an illegal gambling parlor. There were also rumors about barely dressed girls who were hired to attract more visitors. They only found a cold drink machine and several surveillance video systems.
Closed due to floods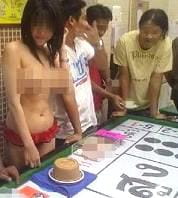 Police major general Saroj Promcharoen believes that the illegal gambling den was created to celebrate the New Year. The building is located in the Sai Mai district, which suffered from inundation in 2011. Before last year's floods, the building was used as an illegal casino.
Notorious figure
The owner of the casino released pictures of two topless girls posing in front of a gambling table that featured Thai money. Several male punters were in the gambling room that also had a sign on the wall that explained the rules of the game. Investigators recognized 'Roong', who is a notorious figure in the underground gambling scene.
Nude model
Bangkok
police were tipped off about the illegal gambling activities and topless girls. One of the barely dressed girls appears to be a nude model that features on the cover of a magazine. Police are investigating if it concerns the same girl.