Mini-Las Vegas in Europe
13-02-2012
Europe will soon have its own Las Vegas as casino giant Las Vegas Sands plans to develop an enormous gambling resort in Spain. The $20.3 billion casino complex could feature 20,000 hotel rooms, conference facilities. It would result in 180,000 new jobs, which would give the Spanish economy a massive boost.
No obstacles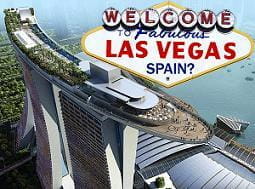 "I want to create a Las Vegas-inspired casino complex in Europe. We are developing this project and we can't see any obstacles," Las Vegas Sands CEO Sheldon Adelson commented. Meetings with building contractors will take place in 14 days and Adelson is gathering a group of architects and builders that would build various complexes at the same time.
Marina Bay Sands
The US casino company invested approximately $6 billion to develop the
Marina Bay Sands
. The impressive Singapore-based casino resort was inaugurated on 15 February 2011. Adelson revealed that Sands strives to extend the conference facilities in Singapore due to the overwhelming demand.
Casino giant
Las Vegas Sands Corporation owns various properties in both Asia and the US. The Venetian and the Palazzo are the pride of Sands' stable in
Las Vegas
. The resort company also owns the Sands Casino Resort Bethlehem. Sands China Limited, a subsidiary of Las Vegas Sands Corporation, operates various resorts in Macau. Then there is the Sands Foundation, which is the company's charitable division.